JNU Campus came to chaos after Anti-India slogans on Afzal Guru Event during cultural evening!
Jawahar Lal Nehru University came into chaos after police in plain dress arrested the student leaders following a cultural event in the campus where some of the students brought out anti-India slogans considering Afzal Guru's hanging unlawful. Mahammad Afzal Guru was from Kashmir where he was born and he was convicted as well as offered the death sentence by the court on the account of his alleged link in the December 2001 terrorist attack on the Indian Parliament.
The highest court of the country after judging out well termed him to be the terrorist; he was also not pardoned by the President of the country after judging and considering for a long period of time. These have all proved that he was involved into the parliament attack that was carried out during December 2001. Therefore, some of the students who are raising voices over his death penalty has brought out the chaos in the campus.
On the sedition charge the president of students' Union was arrested and students in the entire campus are protesting for his immediate release. Rahul Gandhi accompanied by different other political leaders and officials visited the campus and joined the protests urging the release of the president as immediate as possible. The campus has become the site of political chaos and tussle among the political parties. Rahul Gandhi was shown the black flag when he said that those who are trying to suppress the voices of the students are the ones who are main anti-nationals.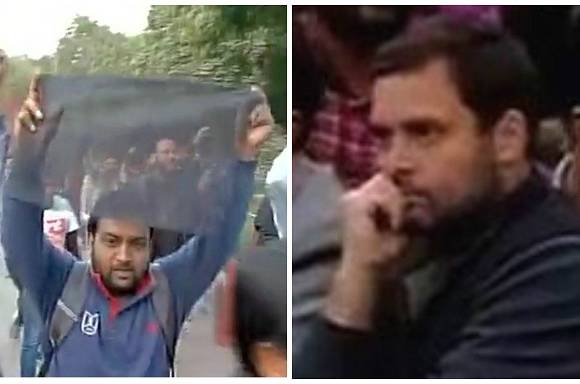 Some groups of the people from other parties have also spoken against what Vice-President of Congress said and saying that he himself is supporting the terrorist group. On the other hand, all the ex-students who have passed out from the University are also said to be ready to return their degrees in the protest of anti-national slogans. They all have to say that they cannot hold the degree from the institution which is center of anti-national activities.
The incident has drawn the attentions of all kinds of people, media, Government and numerous other institutions and political parties as well. The Vice-chancellor has told that they would investigate the matter and after finding out every details of the incident they would come into conclusion.