Indian Railway Catering and Tourism Corporation is responsible for handling of catering and tourism followed by online ticketing for railways.
A glimpse towards the services IRTC provides:
Online Ticketing:
With the coming up IRTC, the whole scenario of ticketing in railways has massively changed in the country. It is responsible for pioneering the internet based rail ticket booking online through website. Even it gave the convenience to people where they can book  ticket online through mobile phones via SMS or GPRS.
Along with the e-tickets, the IRTC also provides I-tickets that are just like the regular tickets. But they are booked online yet delivered by post. Even it avails the availability of PNR status that anyone can see the status of booking. Even people commuting on Mumbai Suburban Railway can book the season tickets from website. IRTC has brought out a loyalty program which is known as Shubh Yatra for frequent commuters. Through the program passengers can easily have the tickets booked on certain specific discounts round the year through depositing annual fee for the ticket once.
The corporation also brought out another program called Rolling Deposit Scheme shortly known as RDS. It means that people can enjoy hassle free e-ticket booking scheme where any passenger can book or reserve the seat through advance payment that is kept with the corporation.  IRTC also started to facilitate hotel and flight booking online as part of online reservation services.
Indian Railways Tourism:
Travellers from around the world can enjoy purchasing the tour packages delivered and organized by IRTC. Those are budget and deluxe package tours both for foreign and domestic tourists or visitors. There is a scheme called "Bharat Darshan" which is a budget tour package that has all the tourists' destinations all across.
Through luxury tour packages travellers can enjoy the sightseeing all across the country in luxury train such as Buddhist Circuit Train and Maharaja Express. Besides, the corporation also provides several other packages such as sports, adventure and wildlife treks to people who want to enjoy.
Indian Railways Tatkal Booking: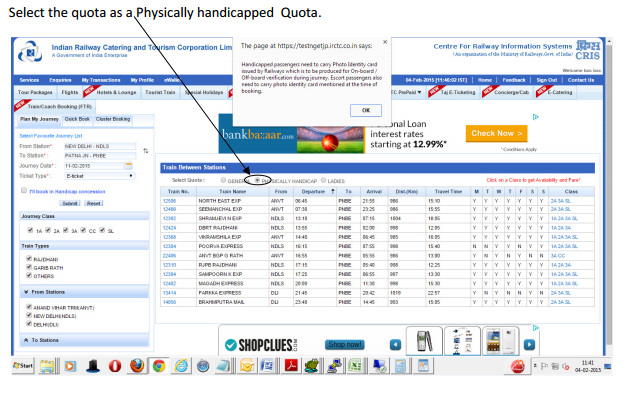 Through this scheme by IRTC, passengers can book tickets online at short notice. The booking can be applied for any trains travelling anywhere in the country. Passengers have to book tickets one day prior to departure day. The time of the booking begins from 10:00 am daily for AC coach reservation and for Non AC timing has been given at 11 am.